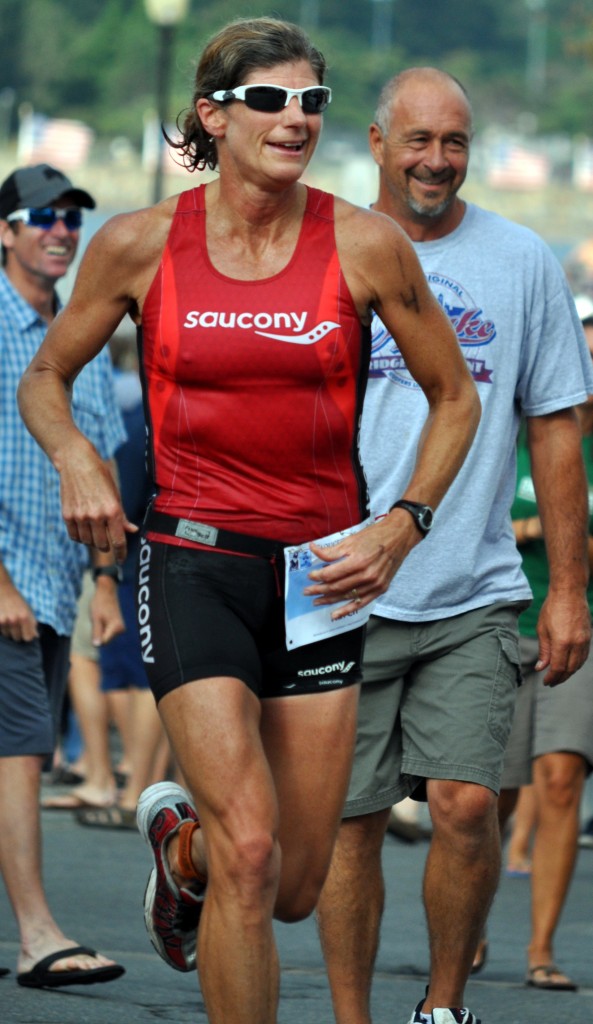 CAREER HIGHLIGHTS
2009 USA Triathlon Hall of Fame Inductee
2008 Larry Ellis Award, Princeton Track & Field
2004 OLN: #7 of 25 Most Courageous Athletes
2001 USA Triathlon National Champion
2001 ARETE COURAGE AWARD
2001 Hawaiian Ironman – 5th, 1st Master , male or female
2000 Honorary Degree, Pine Manor College
1999 US Olympic Committee Triathlete of the Year
1999 Pan Am Games Flag-Bearer, Opening Ceremonies
1996 ITU WORLD CHAMPION – LONG COURSE
1995 HAWAIIAN IRONMAN WORLD CHAMPION
1995 ITU TRIATHLON WORLD CHAMPION
1990 ITU TRIATHLON WORLD CHAMPION
USA TRIATHLON NATIONAL PRO CHAMPION – 1990 thru 1995
1995 PAN AMERICAN GAMES – GOLD MEDALIST
USOC Athlete of the Year-Triathlon 1994,1995,1996
New England Leadership Award Winner – Sports, 1995
MEDIA COVERAGE
During her career, Karen Smyers has received more media coverage from the mainstream media than perhaps any other triathlete. Her three International Triathlon Union World Titles, seven National Titles and win at the Hawaiian Ironman World Championships solidified her standing as a legend in the triathlon world. But her tenacity and courage in overcoming dramatic obstacles has captured the attention of the general public as well. Here are just some of the media outlets that have covered Karen's story.
TELEVISION
• OLN – 25 Most Courageous Athletes(#7)
• NBC Ironman World Championships
• Late Night With Peter Jennings
• CNN Newstand
• The Today Show
• CBS Arete Awards: Courage in Sports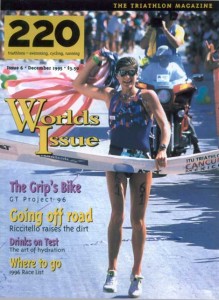 • Oxygen Sports
• OLN – Fearless
MAGAZINES
• Metrosports
• Newsweek • Boston Magazine
• Sports Illustrated
• Sports Illustrated for Women
• Her Sports
• Women's Sports & Fitness
• Walking
• Working Mother
• 220
NEWSPAPERS
• USA Today
• New York Times
• Boston Globe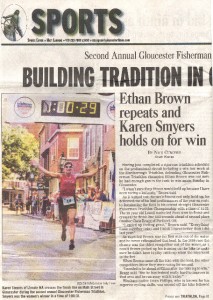 • Boston Herald
• Chicago Tribune
• San Francisco Chronicle
• Washington Post
• Hartford Courant
RADIO
• NPR It's Only a Game
Karen frequently does appearances at expos, clinics, triathlon clubs, and races and does dozens of motivational speaking engagements per year to a variety of groups. Her reach extends further through her role as President of Fast Splits, a multisport services and retail company with stores in Boston and Portland, Maine and as a coach to individuals, tri-clubs and marathon groups. She is a frequent contributor to publications such as Triathlete Magazine, Runner's World, and Inside Triathlon. Karen serves as a role model not only to triathletes, but also to masters athletes, working mothers, and cancer survivors.